Title: Health Equity in Neuroscience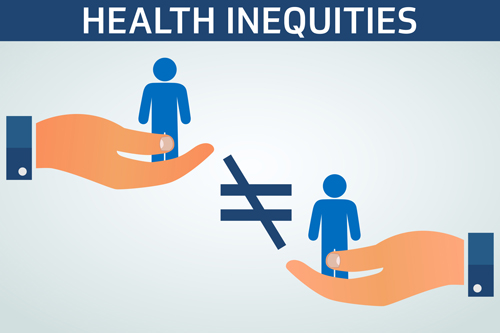 Editor: Gerald Pfeffer, MD

Article Publishing Charge (APC): None
Submission deadline: June 30, 2022
To be published: August 2022
(Articles will still be published "online-first" prior to the release of the special issue)

Description: We are inviting articles (Original Research, Commentary, and Review Articles) on the subject of health disparities, and means to improve equity for patients and practitioners in the neurological sciences (neurology, neurosurgery, psychiatry, and physiatry). For this special issue there will be no article processing charges. An award will be designated in the amount of $500 to the best article contributed by a first-author trainee (undergraduate or graduate student, medical student, resident or fellow) following publication of the special issue in July 2022.


Ways of Knowing of the Brain and Mind: A Scoping Review of the Literature about Global Indigenous Perspectives
Louise Harding, Caterina J. Marra, Vyshnavi Manohara, Judy Illes
Neuroethics Canada, Division of Neurology, Department of Medicine, University of British Columbia, Vancouver, British Columbia, Canada
Abstract

Introduction

Indigenous peoples' pursuit of brain health has been challenged by the violation of their rights to practice their cultures, speak their languages, and engage in traditional medical practices. Despite ongoing systemic oppression, Indigenous knowledges and healing practices endure today and contribute to global understandings of the brain and mind. We conducted a scoping review of the academic literature – both research and reviews – that has examined the perspectives of global Indigenous peoples relevant to the neurological sciences.

Methods and Results

We searched three academic databases using phrases and terms pertaining to brain, neuro, mind, and Indigenous populations. Of the 66 articles included for analysis, 46 were research and 20 reviews or commentaries. The earliest date of publication was 1963; the majority were published after 2000. Most research studies involved consultations through focus groups or interviews, and involved people spanning all age groups. Sixty Indigenous communities were identified in the articles across 21 countries and regions and 5 continents. By contrast, the countries of affiliation of the corresponding authors were far less diverse: two thirds were affiliated with institutions in the USA, Canada, Australia, or New Zealand. Only seven authors were in Latin America or Asia, and there were no corresponding authors primarily affiliated with institutions in Africa. The most prevalent focus of the articles was on mental health and illness, followed by aging and dementia. Ethics topics were embedded throughout two thirds of articles, with substantial coverage of issues pertaining to public policy and public health, and cultural diversity and heterogeneity. The concepts of wellness and well-being, spirituality, holism and relationality were prominent reference features of this diverse body of research.

Discussion

This work supports the meaningful incorporation of Indigenous knowledges into initiatives involving the neurological sciences, such as the International Brain Initiative, the Canadian Brain Research Strategy, and the USA NIH BRAIN 2.0. Research with Indigenous populations that is collaborative and situates ethics at its core is key to the realization of a truly global, collaborative neuroscience.

Full Text
---
Auditing the Impact of Neuro-Advancements on Health Equity
Gregor Wolbring
Community Rehabilitation and Disability Studies, Department of Community Health Sciences, Cumming School of Medicine, University of Calgary, Calgary T2N4N1, AB, Canada
Abstract
Health equity understood as the ability to live a healthy life, to have a good life, is impacted by many social determinants and by the social marginalization of various groups. "Measures" that use indicators to cover social determinants of a good life are useful tools to audit the impact of neuro-advancements on health equity. In this scoping review, I covered over 50 neurotechnologies, neuroenhancement, artificial intelligence (AI) machine learning (ML), robotics, neuroethics, neuro-governance and neurotechnology governance and various "measures" that focus on the ability to have a good life to answer three research questions: 1) Are the "measures" engaged with in the academic literature covering health equity or the chosen technologies? 2) Does the academic literature focusing on the technologies covered, neuroethics, or neurotechnology governance engage with health equity? 3) To what extent does the academic literature focusing on the technologies covered engage with the different primary and secondary indicators of four of the "measures" (social determinants of health, Better Life Index, Canadian Index of Well-Being, and community-based rehabilitation matrix)? For the scoping review, I examined the academic literature present in SCOPUS, which includes all Medline articles, and the 70 databases accessible under EBSCO-HOST and I employed a quantitative hit count approach for the analysis. I found that the term "health equity" was only mentioned in conjunction with the terms "determinants of health" and "social determinants of health" in a substantial way. Three of the terms linked to the "measures" were each mentioned in less than 10 abstracts and 16 terms linked to the "measures" were not mentioned at all in conjunction with the term "health equity". Health equity was also rarely to not at all mentioned in conjunction with the different technologies covered and not at all in conjunction with the terms "neuroethics", "neurotechnology governance" or "neuro-governance". Finally, there was uneven engagement with the primary and secondary indicators of the four chosen "measures" in conjunction with the technologies covered. The results reveal vast opportunities at the intersections of neuroethics and neuro-governance and science and technology governance in general, health equity, social justice, and wellbeing discourses.

Full Text
---
Urban Indigenous Experiences of Living With Early-Onset Dementia: A Qualitative Study in Calgary, Alberta, Canada
Meagan Ody, Cathryn Rodrigues, Parkash Banwait, Lynden Crowshoe, Rita Henderson, Elaine Boyling, Cheryl Barnabe, Pamela Roach
Cumming School of Medicine, University of Calgary, Calgary, AB T2N 4N1, Canada
Abstract
Background: The aim of the study was to build understanding about the lived urban Indigenous experiences of early-onset dementia (EOD) to inform health services planning.

Methods: A phenomenological qualitative pilot study completed with a total of five participants recruited and interviewed for 30 - 60 min. Interviews were transcribed using NVivo12 software and thematically coded with a multi-step process.

Results: Four overarching themes were identified: urban Indigenous understandings of living with EOD, Indigenous family experiences of adjusting to EOD, western approaches to healing and thriving with EOD, and Indigenous ways of healing and thriving with EOD.

Conclusions: The findings of this project provide better understandings of urban Indigenous experiences of EOD and also dementia more broadly. Through a better understanding of the Indigenous experiences of dementia, urban healthcare providers can be more aware of the needs of urban Indigenous people living with dementia, and specifically EOD, and may face and plan to co-design health services accordingly.

Full Text
---